College Board and The New Book Press have partnered to offer Pre-AP students and teachers full access to the WordPlay Shakespeare eBook series.
WordPlay Shakespeare eBooks provide teachers and students with the full online text of Shakespeare's plays, supported by on-the-page filmed performances, and support materials, including glossaries, modern English and Spanish language translations, links to other resources, scene and page summaries, and integrated dictionaries.

Getting Your School License

If your school is enrolled in Pre-AP for the 2020-2021 school year, and you have not yet received your school-wide username and password, please contact us at the following email:

2020cbaccess@thenewbookpress.com

Provide the following information:
1. Your full school name
2. Your state and county
3. Your first and last name
We will quickly send you the information you need.
Printable Support PDFs for WordPlay eBooks
A quick start guide to logging on to WordPlay Shakespeare eBooks, and an overview of the features included in each book, including modern translations in English and Spanish, a full page by page glossary, links to other web based resources, page by page synopses, built in dictionaries, and of course the full filmed performance next to the text.

A two page quick start guide to Romeo and Juliet - the main story, the play's historical background, a list of characters and their relationships to each other, a series of short response questions, a list of figures of speech, and turning points and pivotal moments in the play, with act and scene identifiers.
WordPlay is a web based Shakespeare eBook that puts a host of helpful features for reading and enjoying Shakespeare's plays at student and teacher's fingertips. Some of those features include: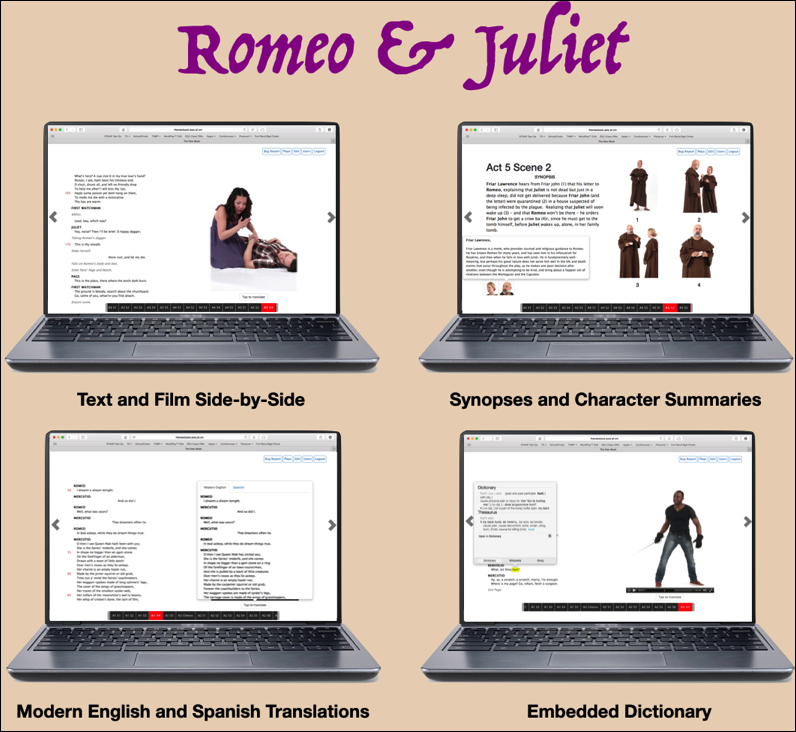 College Board, AP, Pre-AP, and the acorn logo are registered trademarks of College Board